The future of title search, today.
Nationwide title search powered by advanced technology and exceptional service, for a seamless, satisfying experience every time.
Let Pippin Title CEO, Bharat Das, tell you how we are bringing search into the digital age.


We know, there are a lot of title search companies on the internet. What makes Pippin different? It's simple: we're bringing title search into the 21st century.
For decades, managing title searches has presented a challenge for title insurance companies, lenders, and law firms. Some documents are online, while others must be retrieved in person. Because different vendors offer different variations of title reports, they can be hard to interpret. There's a lot of legwork involved in the title search process, but our founder knew there had to be a better way.
At Pippin, we've implemented proprietary title search technology and combined it with a network of the best title searchers in the business. We take the hassle out of title search by handling each step of the process so you don't have to. We work with title insurance companies, local governments, banks, and property developers across the United States, helping them get the title documents they need quickly and easily.
When you choose Pippin for your title search, you'll get fewer headaches and hassles, along with a more streamlined, predictable closing process.
Why Pippin?
We're known in the industry for our accuracy, speed, and transparent process, but when you choose Pippin for commercial title search, you'll also get:
Easy to Use Dashboard
that integrates seamlessly with your existing workflows for simplified ordering, tracking and invoicing.
Standard Format, Commitment-ready Reports
that are backed by our rigorous quality control process.
Local Expertise Wherever You Need It
thanks to our nationwide network of ground searchers and robust search capabilities.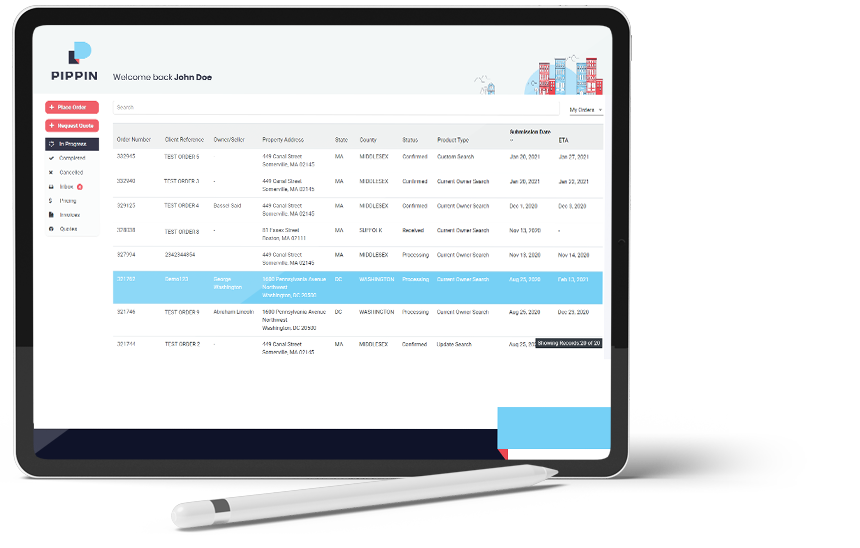 Get Started
Start your next title search with Pippin.
Forget chasing after ground searchers and poring over documents. With our proprietary search technology, reliable searcher network, and rigorous quality control, you get accurate, commitment-ready reports every time – fast.
CONTACT A REPRESENTATIVE
Extensive Title Platform Integrations
that integrates seamlessly with your existing workflows for simplified ordering, tracking and invoicing.



Faster & Easier Ordering Process
Stay in Your Title Platform for Searches
Integrated Commitments (No-ReTyping)
LEARN MORE ABOUT INTEGRATIONS
Real-time Order Tracking
so you can access the status of your order 24 hours a day, 7 days a week.
Lightning-fast Service
for less hassle and delay; we'll deliver your results in record time.
We're There When You Need Us
thanks to support from our team of commercial title search experts.